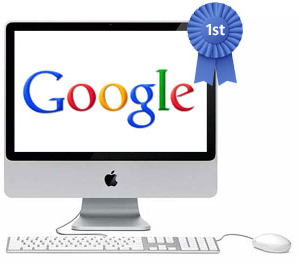 Yep—it's true. I'm fired up to say that I successfully built a website and in exactly one month, got it to rank #1 in Google for my targeted keyword.  Not only that, but the site is busy making money all the time—it actually pays my internet bill! More on that later. As of this writing, the site has been live for about 4 months and receives between 1500 and 2100 visits per week with trends moving up all the time.
So what was the trick? Simple. Keyword research.
It's funny. I've read so many articles about building websites and creating successful PPC campaigns that all stress how important keyword research is, yet I can honestly say that I didn't really take it to heart. I'll be the first to say, that was dumb.
Keyword research really IS the key.
Not convinced? Here's some proof. I posted my first articles on February 1, 2013. I did not do any marketing or SEO of the site whatsoever. No backlinking, no social bookmarking, I didn't even tell anyone about it. In fact, the site was still a mess at this time as it was under construction. Despite all this, it still started to pick up traffic purely from the killer keywords I chose.
Here's a snapshot of the analytics:

By this time, you've got to wondering what the keywords I selected were. I'd be lying if I told you that I spent a grueling amount of hours researching and strategizing about them, although that's the typical process. In all honesty, I stumbled upon them luckily, but not randomly.
The story began when I purchased a new GoPro HERO3 camera. Upon receiving my sweet new toy, I quickly searched the internet for cool things to do with it. I found tons of fantastic tutorials out there, but I also had to sift through tons of terrible ones to find them. I watched so many out of focus, dimly lit, shaky videos that I literally had to lay down to avoid puking.  I thought, there's got to be a central repository for good GoPro projects out there. Turns out there wasn't. Bingo! There was my niche. Now to find the keywords.
As I explained in my Beginner's Guide to Keyword Research, I used Google's Keyword Research Tool to help me select the right keywords. In my case, it wasn't hard to think of what to search for. I just plugged in exactly the types of things I was searching for when I was looking for projects for my new camera. The one that struck gold was "DIY GoPro."
As you read in the the Beginner's Guide to Keyword Research, this keyword combination was good for two reasons: it had low competition and a good amount of global monthly searches. BUT, there's something really special about this one.
Do you see it in the keyword results below?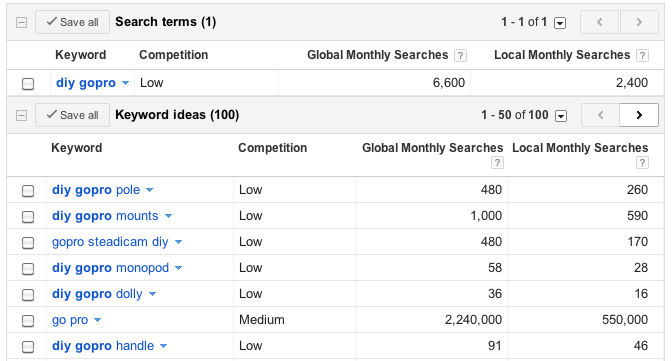 The beauty of this particular keyword is that it's a descriptive phrase. In other words, it's probably not the exact phrase someone might search for, but it's definitely going to be the first part of their search query. Check out the results below my main search. Now, can you imagine what I would be titling my articles to gain the most traffic? Starting to get the picture here?
There was one last key to the puzzle to get the ultimate search engine optimized site—the domain name. Could it be possible that DIYGoPro.com was available for purchase? As luck would have it, yes! I scooped it up without even thinking about it from GoDaddy.com.
Remember, this is a special kind of domain name. I call it an Exact Match Descriptive Domain (EMDD) and I really think it's a uniquely strategic way to boost the SEO juice for your niche websites. It's undoubtedly what led to the success of my website with regard to rankings and traffic generation. The strategy is to purchase a domain that can describe multiple things people might search for. In my case, DIY GoPro could be tacked on to the beginning of many search phrases. When I post articles, I make the title not only include my target keyword phrase (i.e., DIY GoPro), but also my secondary targeted keyword (e.g., helmet mount). This creates an über powerful URL in the eyes of search engines, one that includes the keywords in the domain as well as in the URL path.

Each article I post has a nearly perfectly crafted URL which sucks in tons of long tail traffic from Google. It's a beautiful thing.
As for my main keyword? It took me exactly one month to rank #1 in Google. I used SEO SERP Workbench, a plugin for Google Chrome, to accurately measure my rank in Google over time.

This was purely because I was able to snatch up a good domain with low competition and a nice amount of search queries per month. At the end of the day, the lesson is that keywords ARE key! Abraham Lincoln once said,
"Give me six hours to chop down a tree and I will spend the first four sharpening the axe."
Keyword research is much like Big Abe's quote. Don't overlook it. Spend more time than you think you need to get it right and the payoff will be great. I got lucky, but my luck made me see the light. With the right keywords, this internet marketing thing becomes a lot easier.
Stay tuned for more insights and techniques I used to create my successful niche site. Or just subscribe below!
Like what you read?
"Get FREE bite-sized marketing tips delivered now"
Join the 1,000+ who start their 7-day routine with one thought-provoking morsel to help them become marketing ninjas.