Being a strategic marketing ninja requires that you know some nifty tricks. This is especially true with social media marketing because the volume of content you have to keep pushing out is crazy.
I thought a lot of you might like seeing a couple awesome tools I use called Buffer and Bottlenose to help me Tweet out good content about marketing throughout the entire day.
Here's a quick video I created to show you what I use and how I do it:
Honestly, I have to admit I don't always have the time to read the articles found on Bottlenose, but I know that if the title interests me, it will probably interest my followers.  I've scrutinized the links on Bottlenose in the past and they're almost always really good. And, because a Tweet (especially a bad Tweet) has such a short lifespan, I'm not too worried if one stinker sneaks through every once in awhile.  You can typically tell right from the Bottlenose dashboard which links are the good ones.
For my Tweeting schedule on Buffer, I have spaced out Tweets to occur about once an hour. So, rather than sitting down in the morning and firing off 10 Tweets one right after the other, I just Buffer them and they get automatically posted slowly, giving me a better chance to reach more people.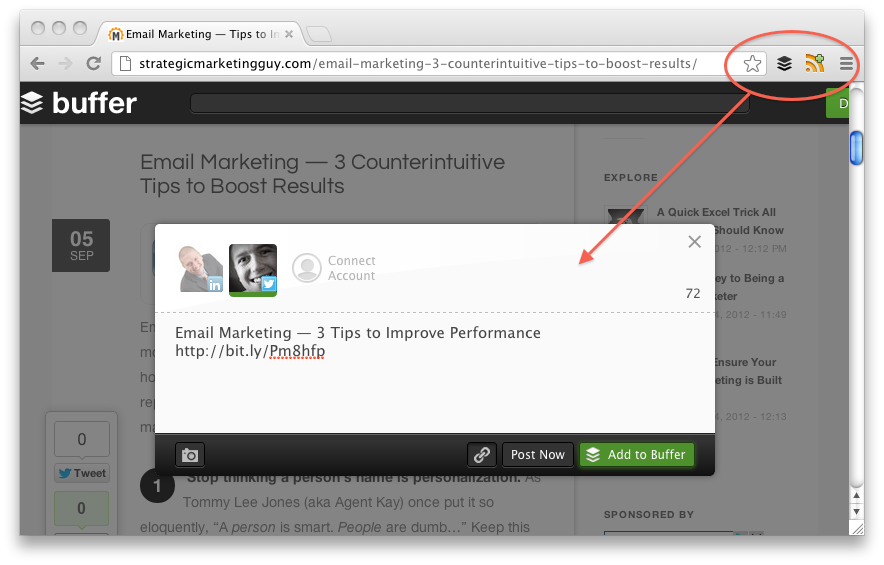 My favorite part about Buffer is that you can get a plugin for most popular browsers that puts a button right on your browser window. This makes it stupid-easy to add a good article to my queue to share it with my followers.
Hope you like the tip.
What tricks do you use to keep up with the content demands of social media?
Note: If you use one of the links I provided to sign up for Buffer, we'll both get some extra space in our queue. I'm not a Buffer affiliate, just want to be honest.
Like what you read?
"Get FREE bite-sized marketing tips delivered now"
Join the 1,000+ who start their 7-day routine with one thought-provoking morsel to help them become marketing ninjas.