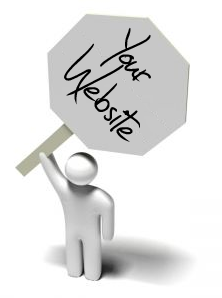 It doesn't matter if you're selling a product, running a non-profit or hosting a blog, your success on the internet starts with traffic. Gathering an audience is not simple. Fortunately, there is a plethora of great information out there to help you effectively reel in traffic. But who do you trust?
Read on to discover the 10 best blogs to help you grow your business through traffic generation.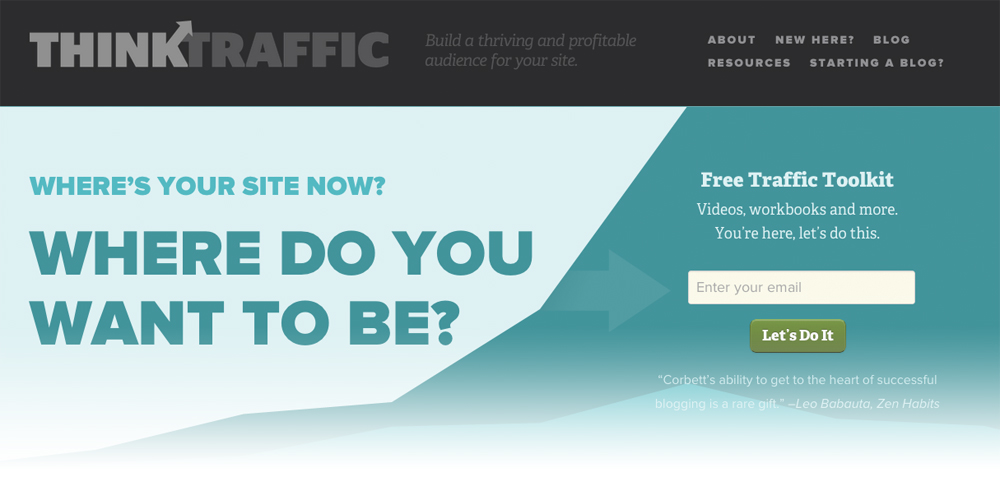 About the Author
Corbett Barr's sole mission with his site Think Traffic is to help you get traffic to your site. Before Think Traffic, Corbett's first blog attracted over 500,000 visitors in it's first year. He has since built two blogs that within 18 months were making him over six figures in income. Long story short, the guy knows his stuff.
Why It's Great
Corbett and crew make things insanely actionable. There's no guessing what to do next after you read the material or watch one of their great videos. Corbett comes across super genuine and an all around good guy which makes the whole learning experience more enjoyable.
Recommended Posts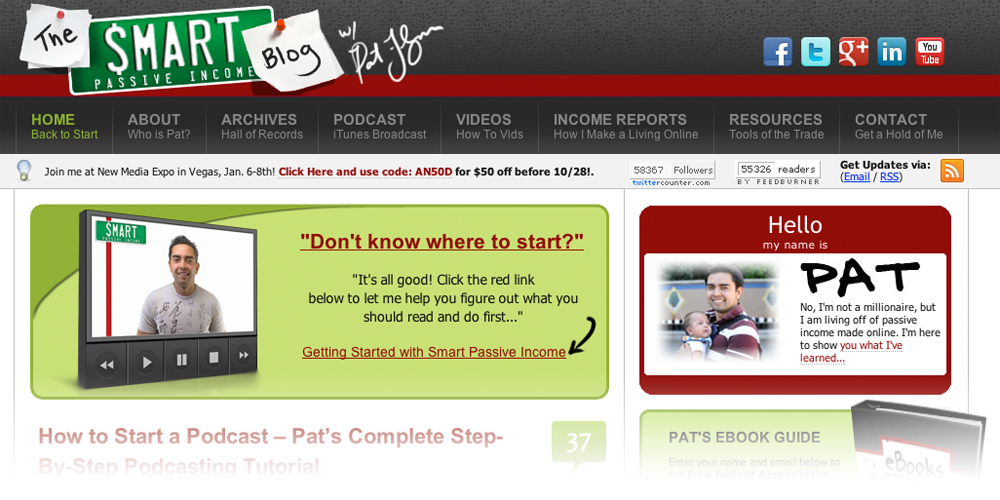 About the Author
Pat Flynn started his online career almost serendipitously when he gathered his notes from studying for a big architecture exam and sold them as an ebook. Now, with several successful passive income streams working in his favor online, Pat spends most of his time disclosing every detail to how he does it on his blog and podcast, Smart Passive Income.
Why It's Great
Traffic generation and sustainment is really dependent on so many factors. Pat gives an amazingly comprehensive view of how to run a successful online business. It's incredible how he's able to not only go the extra mile catering to every detail on his own sites, but he then remembers to take the time to share all the how-to's on his blog. The transparency is truly refreshing.
Recommended Posts
THE Backlinking Strategy that Works

 – This is a great educational post if you don't know much about backlinks, but do your homework before following this because SEO tactics change over time.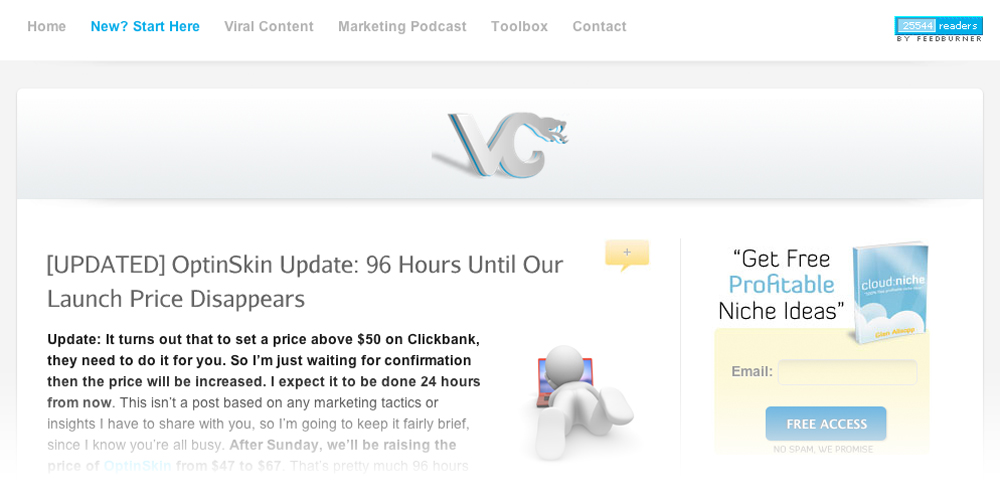 About the Author
Glenn Allsop is a prodigy to say the least. At 18 years old he was headhunted to become the Social Media Manager for massive brands such as Land Rover and Hewlett Packard. At 20, he sold the 10th biggest personal development blog in the world (which he built from scratch) for a mid-five-figure fee. Now, at 22, he's travelling the globe – paid for with affiliate marketing – and sharing what he's learned on his website.
Why It's Great
Glen offers a unique perspective on Internet marketing since it feels like he was born with a mouse in his hand. He's a perfectionist and that really comes across in a good way in everything he shares. With his repeated success, Glen is able to explain his systematic approaches for gaining web traffic through a multitude of methods.
Recommended Posts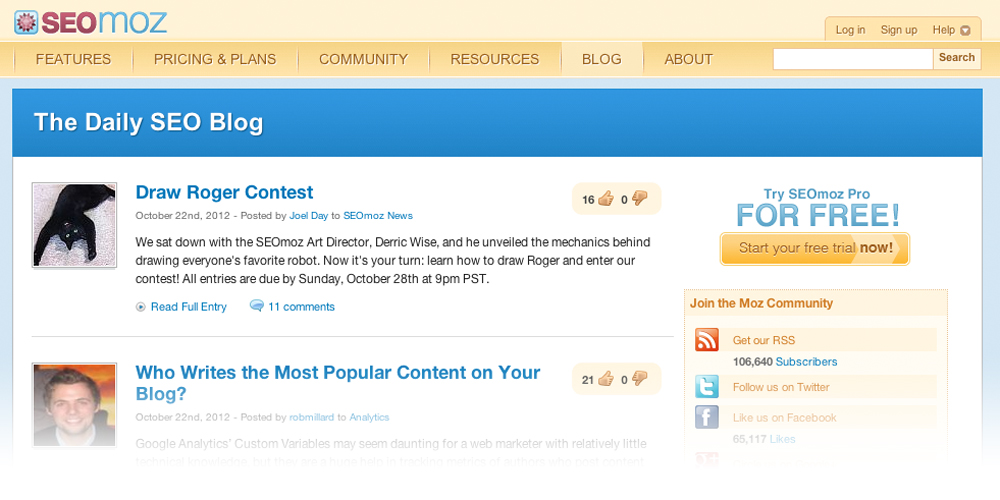 About the Authors
The SEOmoz blog is comprised of their users and consists of a ton of people that are genuinely obsessed with SEO. Authors come from all areas of business, which can include marketing agencies, private businesses, or large organizations.
Why It's Great
Plain and simple, you're leaving chips on the table if you can't get found via search. SEOmoz gives you every imaginable tip you need for getting your site search engine optimized. The best part is the variety of perspectives that the SEOmoz community offers because the articles are coming from internet marketers of all shapes and sizes.
Recommended Posts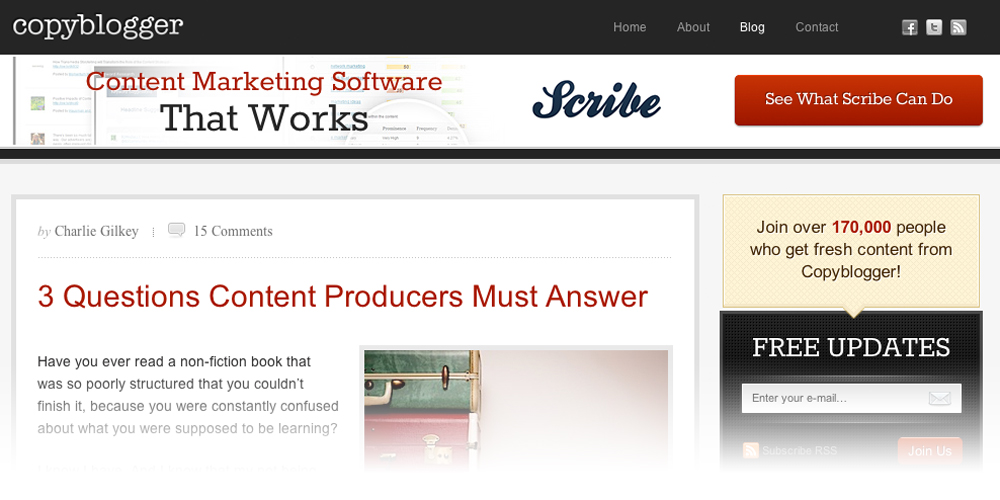 About the Author
Copyblogger was founded by Brian Clark, a serial entrepreneur and former attorney. Brian built three successful offline businesses using online marketing techniques before moving to a completely online business model. The result of that move is Copyblogger Media — a company that provides advice and solutions to empower people for successful business growth using social media and online marketing.
Why It's Great
At the heart of a successful website there is most often great content. Copyblogger is a must read site if you want to adopt the best practices for producing truly remarkable content for your site. This is another resource that does an amazing job at making their advice extremely actionable—often giving you a easy-to-follow set of steps to effectively accomplish your goal.
Recommended Posts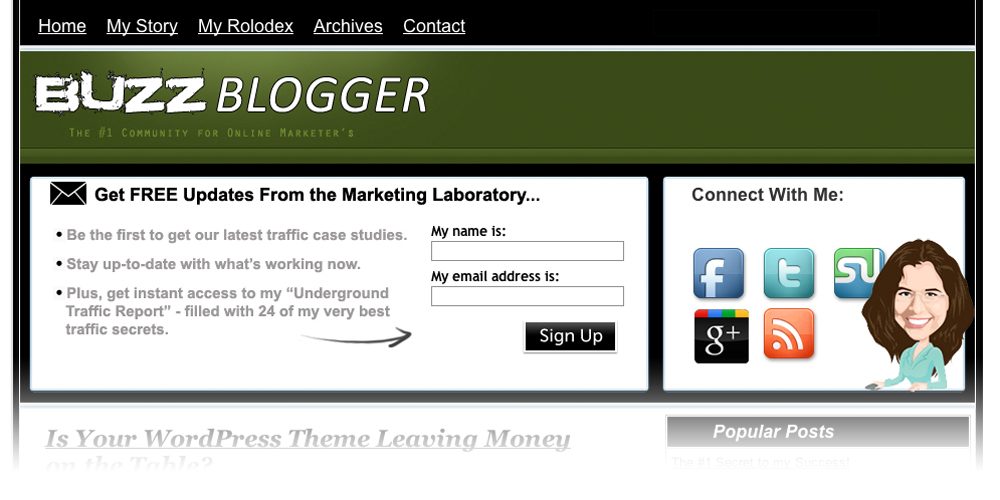 About the Author
Kim Roach makes a living on the internet as an internet marketing guru. She's known for going above and beyond in regards to customer service and public relations and is super friendly and approachable through her Twitter account, email and blog.
Why It's Great
Kim does not mess around when she writes a post. The words "epic" and "thorough" come to mind when you read her stuff. It's far too easy to get sucked into reading article after article when on Buzz Blogger. More addictive than crack.
Recommended Posts
21 Steps to 1,000 Visitors Per Day

21 Untapped Traffic Sources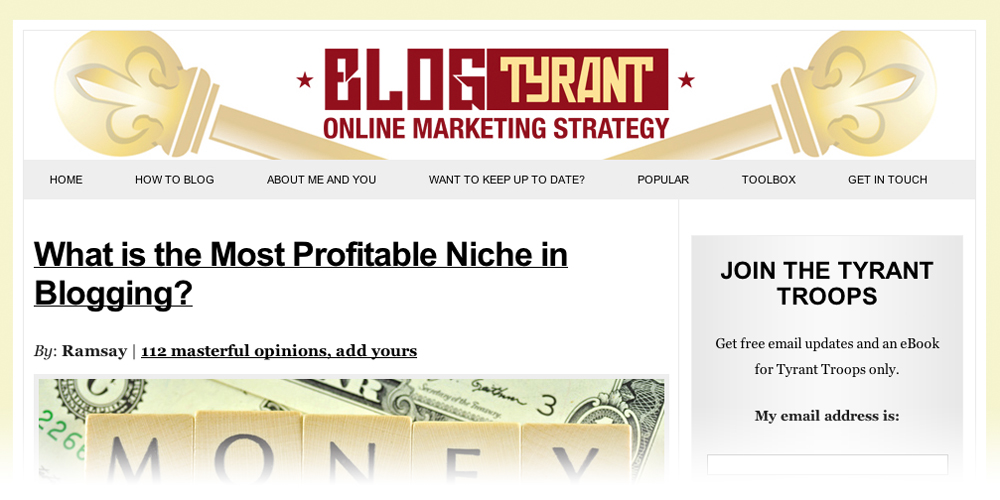 About the Author
This author recently came out of the shadows of mystery and revealed himself as 27 year old Ramsey. Having wrote nearly 100 blog posts over 2 years under the alias, Blog Tyrant, Ramsey is another work from home internet marketing expert. He's been featured on many insanely popular blogs and was just recruited as the first team member of the ViperChill.com blog.
Why It's Great
This blog focuses on how to effectively create a blog, but the crux of a successful blog is providing content in a way that's irresistible to your audience. This isn't far from the heart of building a steady traffic stream to your website, even if it isn't a blog. It's not hard to read Ramsey's tips and apply them to any website.
Recommended Posts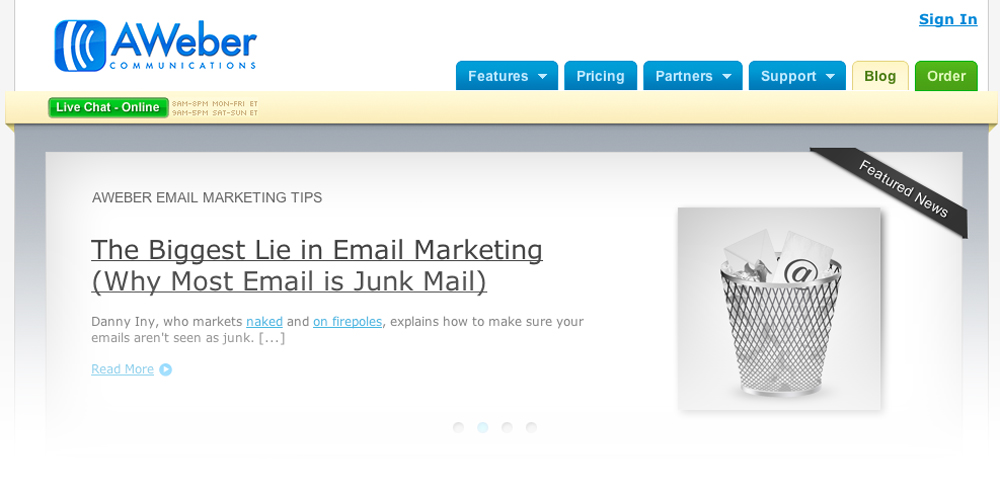 About the Author
AWeber is an excellent email service provider—like a MailChimp with more functionality. They tend to write short bite-sized posts that are quick to read and quick to execute.
Why It's Great
Email is one of the most powerful tools for getting traffic to your site. If used correctly, you can engage with your audience on level that is seldom paralleled. That being said, these guys know email and share best practices like it's their job… because it is.
Recommended Posts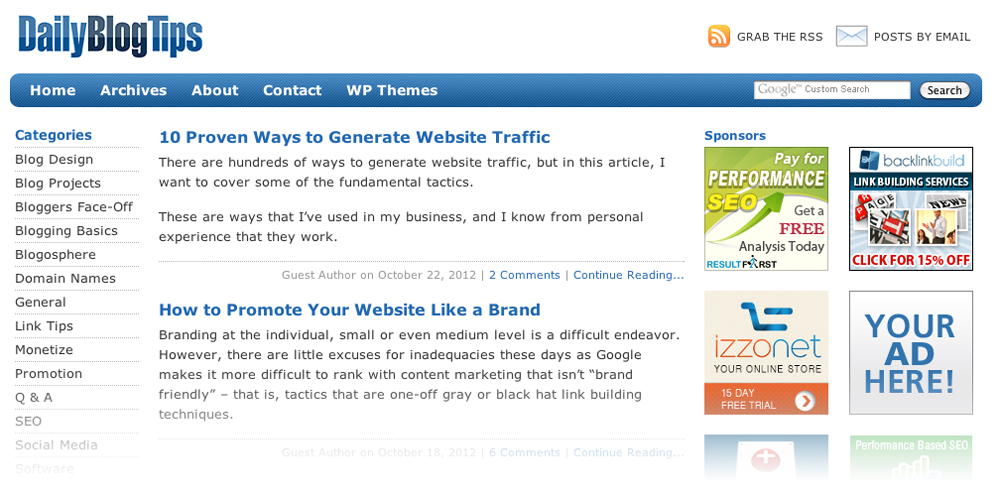 About the Author
After receiving a degree in International Economics and working for one year for a large company, Daniel Scocco decided to pursue entrepreneurial projects on the Internet. He's created a bunch of successful websites that generate passive income for him and on his blog, DailyBlogTips.com, he shares what he's learned along the way.
Why It's Great
This another blog that focuses on the art of blogging and making money online, but it's awesome to see the ninja techniques that bloggers use to get traffic to their websites—because after all, traffic is the life blood of any blog.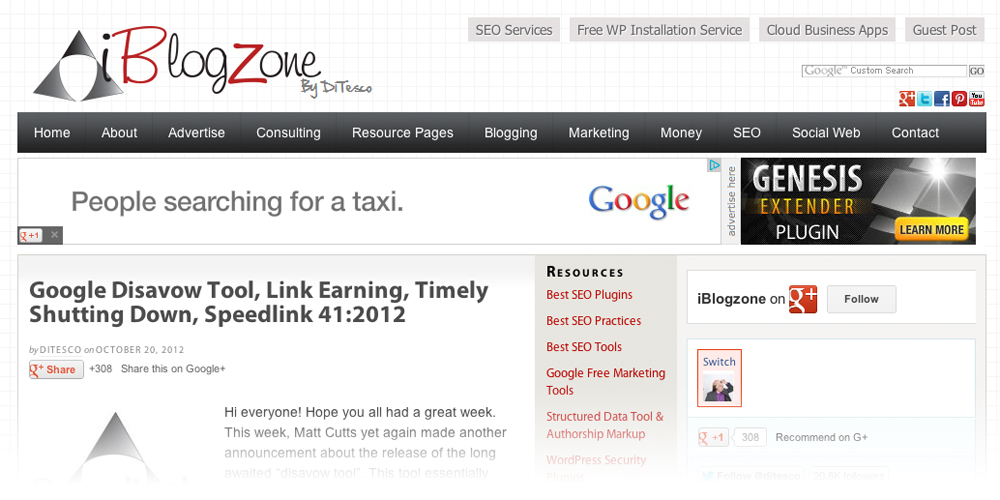 ;
About the Author
There are many authors, but Francisco Perez, aka DiTesco, is face of iBlogZone. DiTesco is an online business entrepreneur and manages a small Business and Management Consulting company. Prior to his online endeavors, he occupied several management positions such as; Chief Operating Officer (AIG – American International Group), Chief Executive Officer (Banesto Group – Insurance Division) and several others.
Why It's Great
iBlogZone focuses on helping you create a home based business, so they're not afraid to get down in the weeds and explain exactly how to tackle some pretty innovative techniques to drive traffic to your site. It's a resource you might overlook if you're not creating a home business, but you should be reading it to help you with any website.
Recommended Posts
There you have it—the 10 best blogs to help you drive raving fans to your website. These guys are amazing writers, so be careful or you'll be stuck there reading for hours before you realize you've entered their vortex. So, I have one piece of advice before you depart. Getting traffic is all about doing. Don't just read about the techniques. Get out there and implement!
What are your favorite blogs for helping you achieve your website goals? Leave a comment below.
Like what you read?
"Get FREE bite-sized marketing tips delivered now"
Join the 1,000+ who start their 7-day routine with one thought-provoking morsel to help them become marketing ninjas.