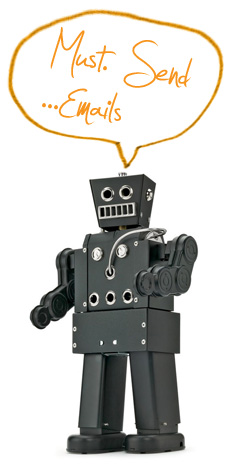 In marketing, they say that the money is in the list, meaning that if you want to make some serious cash you better focus on building an engaged group of people that are subscribed to your business somehow.  The best and easiest way to do this is through an email autoresponder.
What is an autoresponder?
If you've ever entered your email address into a field on a website and received an email immediately after doing so you've experienced an autoresponder. Autoresponders send emails after trigger events. In most cases, the trigger event is when someone signs up for something on your website like a newsletter, a free offer, or after purchasing something.
In more advanced marketing, autoresponders are used for complex lead nurturing where people receive different emails based on different things they do. For instance, maybe Person A gets your email, clicks through, browses and leaves your site. Person B gets your email, clicks through, adds something to his/her cart and then leaves. These people could be placed into two different nurture tracks and receive different emails based on their actions.
How to use autoresponders for your small business
You don't need to get fancy with an autoresponder to take advantage of its awesome benefits. Simply setting up one email track for your subscribers is easy and will have a huge impact on your marketing success.
The difference between an autoresponder and newsletter
For StrategicMarketingGuy.com, I set up a single email track for everyone who subscribes to my Bite-size Marketing Tips.
The goal was to send people a small pre-written marketing tip each week—just a little something to keep my website top of mind and provide an easily digestible bit of value.
This is really the difference between and autoresponder and a newsletter.  If you have a monthly newsletter and someone signs up, they would simply be added to the list and receive the new newsletter next month and the months following. An autoresponder, however, sends people a series of prewritten emails (e.g., email #1, email #2, etc.) on a schedule that you determine. Could be once a day, a week, or triggered by some action.
In other words, you could have 100 people subscribed to your list and they could all be receiving different emails on the same day because they all signed up on different dates. With a newsletter, everyone receives the same email at the same time. Make sense?
How to set up an autoresponder
There are several different autoresponders out there that are great, but I use MailChimp for a few reasons:
It's easy to set up really nice looking HTML emails using their free templates
It basically forces you to use email best practices
It integrates with a ton of 3rd party applications (more on this in other posts)
It's the least expensive, particularly if you have a really small subscriber list
First off, you need to have a paid MailChimp account in order to use the autoresponder feature. Relax. It's not expensive, especially if you're just starting out with your list.
After you sign up for your free MailChimp account, upgrade to a Pay As You Go account. This is your most cost effective option if you don't have an army of subscribers yet.
Here's the pricing table from their site:
Compared to some of the other services like AWeber, which is a minimum of $19/month, this is the way to go, at least until you have a lot of subscribers.
Read on for more tips on how to set everything up, but here is a quick video to show you the setup in a nutshell:
Create a new subscriber list
First thing you need to do is go to the Autoresponder section on the top navigation of MailChimp then click Create Autoresponder.
After you click this, you'll be following a set of steps that are shown on the top navigation of MailChimp. When you're done with one step, click the next one in the nav bar.

The first step will ask you which list you'd like to send to. Create a new list and then select send to entire list.

Setting autoresponder timing
Next, you'll be asked to set up the timing of the event. For the first email that people receive you want to set the Sending Event as the subscribe date and the Timing to within the hour. You'll also want to check all the days so the person who signs up will receive the first email on the day they sign up, no matter what day that is.

Make  these changes and move on to the Setup tab.
Setup
For the Setup tab, it's fairly self explanatory, but I like to tweak each subject line for a couple reasons. One, it's a great way to test which subjects get the most opens and two, it's nice to keep things interesting for you subscribers. Put yourself in their shoes. It would be much easier to tune out a reoccurring string of emails if they had the same subject line each time.
The other thing you'll want to do during this step is to check Add Google Analytics™ Tracking To All URLs. This is pretty critical because it will allow you to see which emails are driving traffic to your website.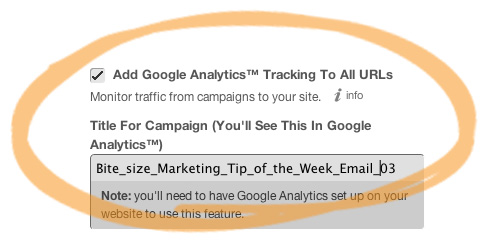 Side note: If you don't have Google Analytics installed on your site, stop right now and go do that.  Here's a good Google Analytics install tutorial  for WordPress from my friends at wpbeginner.com. I like to use the plugin called Google Analyticator  to install the script on my sites.  It's a great little plugin because you can disable tracking yourself on your own site when you're logged into your WordPress Admin. This is helpful particularly when you don't have a whole lot of traffic.
Autoresponder design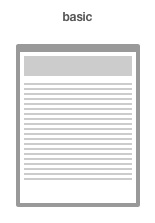 For the design of your autoresponder emails, I strongly recommend going with something fairly basic. Why? The trend of mobile email opens is growing more rapidly every day. At my agency, it's common to see at least 30% of our emails opened on mobile devices. You want your message to show up nicely and be readable without forcing people to pinch zoom and scroll fifty times before they figure out what you're trying to say. Single column format is the way to go if you'll be sending frequent emails. For a few more email marketing tips, you can refer to a recent article I wrote.
One of the coolest parts of MailChimp is that when you first design your emails, MailChimp will go to your website and match your color scheme automatically. I only had to tweak a couple things to get my email looking the way I wanted.
Another crucial step in your email design is the copy that you place in the pre-header  section. The pre-header is the little area that places some fine print above the email. It's important because email services like Outlook, Gmail etc. will display the first line or two from an email in the preview section so people can get a sense of the message before they read it. Make sure you change this box to something enticing. It will have a dramatic effect on your open rate.

All you really have left to do here is enter the text into the email body. Be concise. Be very clear in what you want people to do. Also, don't be afraid to play around with the settings to make sure you like how your email looks.
Editing your Plain-Text autoresponder email

The plain-text version of your email is mainly for people who are reading their email from their mobile device and are not accepting images. This is a dying breed of people, but it's an easy step to take to make sure everyone receives your message properly, so why not? First step here is to click the button that says, Copy Text from HTML. This will automatically populate the field with whatever you wrote in the last step.
Then, take a look at how things show up. You might want to rearrange some text just so it reads a bit nicer.
Check your work
Move on the the Confirm tab , scroll down and click the big button that says Preview & Test. Send yourself the email. When you receive it, check how everything renders and that all the links are working. If you spot something wrong, you can easily go back to the step in MailChimp where that feature can be edited and then try again.

Once you're happy with the test email click Start Autoresponder. You've just created the first email.
Rinse and repeat
To create the next email(s) in your email nurture track, you more or less start from the beginning and repeat the creation process. This is where it gets a little tricky, so keep reading.
To make things quick, you can replicate the first autoresponder you created and just change the timing and the copy. In the autoresponder dashboard, click the little gear and select replicate.

Once you've replicated the first autoresponder, you're simply changing the timing and the text in the design tab. The timing is the part that's a bit confusing, I had to actually have MailChimp explain how their system displays it.
Here's the start of my schedule: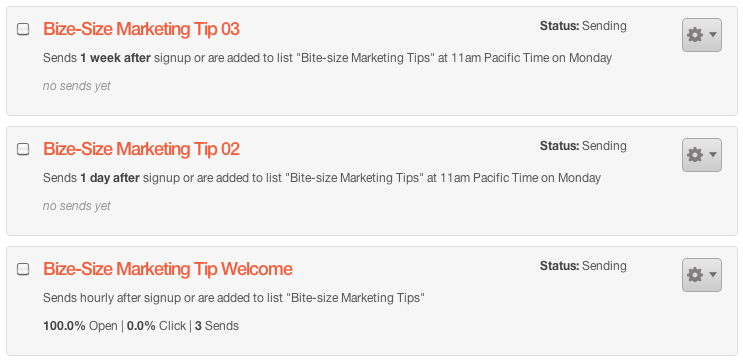 Read the above table from the bottom up. So for my Bite-size Marketing Tips emails, a person will receive the first email shortly after they sign up. Email 02 will send on the Monday that follows (which could be the next day, a week away, or sometime in between). For my third email, I change it to Monday 1 week after they sign up. After the 3rd email I will schedule emails 2 weeks after, 3 weeks after and so on.
You keep repeating the creation process until you have a bunch of autoresponders all tied to the same list but with different timings. Each email is treated as a separate autoresponder and placed in the autoresponder section of MailChimp.
Done!
Well, you're never really done. Keep close tabs on how people are interacting with your emails. If you're not getting the results you want, something is wrong. Fix it.
If you have any questions, leave them in the comments section and I'd be happy to answer.
Happy marketing!
Like what you read?
"Get FREE bite-sized marketing tips delivered now"
Join the 1,000+ who start their 7-day routine with one thought-provoking morsel to help them become marketing ninjas.